Panmure Island Lighthouse
Panmure Head Lighthouse or Panmure Island Lighthouse - Margaret Coleman writer of Architectural History Branch in FHBRO Building Report 90-261 stated:
"The Panmure Island Lighthouse is particularly attractive because of its good proportions, corbelled cornice, brackets beneath the lantern deck and pedimented caps over the door and windows."
This white, octagonal tower is 58' high from the base to the vane. It is clad in cedar shingles and sits on a masonry foundation.
The trim on the windows and doors as well as other decorative elements were painted red in the 1990s. This matched the red lantern and its metal cables and railing. The metal grips on the roof of the lantern were used when painting or doing other maintenance work. The lantern has glass on all but two panels. There are white maple leaves painted on the red panels.
The Panmure Island Lighthouse three-acre property is at the north end of a picturesque sandy beach that runs along the isthmus to the island.
Driving Directions:

Points East Coastal Drive - From Route 4 on the eastern shore of Prince Edward Island, turn east onto Route 17 (Main Street in Montague or Point Pleasant Road in Murray River) and drive for 18.2 km (11.4 miles).
At that point, turn north on Panmure Island Road (Route 347) and drive across the causeway to the island. The Panmure Island Lighthouse is located down the second road to your right (Lighthouse Road) as you arrive on the Island.
The tower is open daily in July and August, and part-time or by request in June and September.
GPS Coordinates: 46 08 39.2 N 62 27 59.7 W
---
Technical Data
Status: Active - Open
FHBRO Number: 90-261
LOL number: 953
Date Built: 1853
Electrification and De-staffing Dates: Electrification - 1958. De-Staffing - March of 1985.
Nominal Range: 19 NAUTICAL MILES
Focal Height: 25.0m, 82'
Light: White flash
Flash Pattern: Flash 4s Eclipse 4s
Tower height: 18.6m, 61'
Historic Data
" On April 25th, 1836 records show that 175 vessels were anchored in Cardigan Bay to weather a storm. The 'Battle of Islands' began to choose the proper location for a key lighthouse. Panmure was the island of choice, not Boughton."
~ taken from the PEI Lighthouse Society brochure.
In 1853 Archibald Mac Donald sold one acre and access to the lighthouse for 20 pounds.
The Panmure Island Lighthouse was the first wooden lighthouse built on Prince Edward Island. It was built in the octagonal heavy timber frame style which was typical of the pre-Confederation (Colonial) lighthouses on PEI.
Many of the carpenters had gained their skills as shipbuilders and they incorporated a number of shipbuilding techniques in the lighthouse. The heavy timber frame was constructed using trunnels (treenails) as well as metal bolts.
The windows were built like those on a ship so they could be easily taken out by removing wooden slats on either side of the window.
The interior consists of four levels connected by straight wooden stairs. As you climb from one level to the other, you can see how the floors were constructed using another shipbuilding technique. The floors were made of wide thick planks which had grooves cut into the sides. Pieces of the board, approximately 2 inches by 4 inches, were wedged into the grooves between the floorboards. This gave strength while still allowing for some motion from the wind, not the sea, as on the ships.
When Panmure Head Lighthouse was built in 1853, Panmure Island was a sandhill, not connected by a narrow isthmus. The lighthouse guided shipping to the shipbuilding and commercial centres of Georgetown and Montague.
The keepers lived in a small cottage which was later used as an oil house for a time and finally was used as a garage. Most of the keepers kept animals so there were various barns and outbuildings.
The cast-iron lantern was installed in 1885.
In 1908, the Department of Transportation built a wooden fog alarm building and installed a fog alarm, one of the first in this area. It was operated by means of diaphone and compressed air.
In 1909 a spacious two-storey house was built. It deteriorated over the years and in 1957 a new lightkeeper's dwelling was constructed adjacent to the lighthouse. It was sold to Margaret and Roger Mac Leod in 1995. Margaret is the daughter of the last lightkeeper, William Mac Donald.
The lighthouse was electrified in 1958. A Stone-Chance foghorn was installed in the Fog Alarm building in 1971. When the lighthouse was automated in 1985, a new generator room was constructed on the first floor. The fog alarm building was sold and moved to a neighbouring property. Later the fog alarm equipment was housed in the former generator room until was removed in 1999.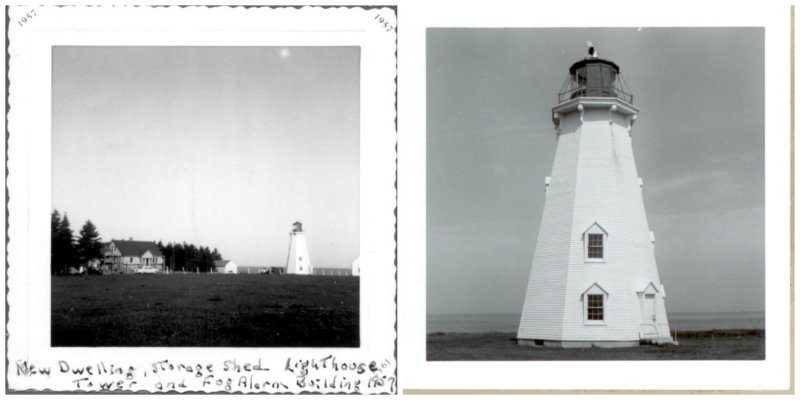 ---
Lighthouse Keepers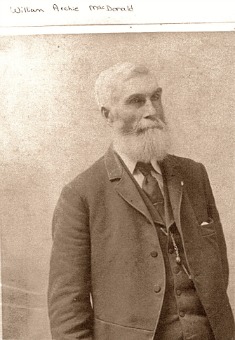 1853-1887 - David Bryon
1887-1908 - William MacDonald (William Archie). Son of Archibald who sold the land for the lighthouse site.
1908 - Mathias Condon foghorn engineer
1908-1910 - Colin Steele
1910-1920 - Wallace E. Graham
1920-1936 - William Albert Mac Donald, Son of William Archie, became keeper at an unknown date1920's and continued until his retirement in 1936 when he was 70 years old.
1936-1939 - Charles Steele
1938-1940 - Augustine Jamieson, Temporary foghorn engineer. Following his death of his son in 1940.
1940-1946 - Louis Jamieson, temporary foghorn engineer
1946 -1981 - George Creed, He was a prisoner of war during World War II
1960-1980 - William J. MacDonald, assistant keeper
Summer 1981 - Alfred Condon, maintenance 1985
September 1981 - Boyd Palton
December 1981 - Waldo Taylor
February 1982 - Peter Jackson
November 1984-March 1985 - William J. MacDonald, last keeper of Panmure Island Lighthouse
Current Owners/ Operators:
The Panmure Island Lighthouse Association Ltd has put in a petition for ownership through the Parks Canada Heritage Lighthouse Program.
Currently owned by the Government of Canada.
Special Events:
Panmure Head Lighthouse was recognized as a heritage place under the Prince Edward Island Heritage Places Protection Act on October 3, 2012.
On September 25th 2013, the Panmure Head Lighthouse was awarded a Provincial Designated Heritage Place plaque and certificate from the Honourable Minister of Tourism and Culture, Robert Henderson.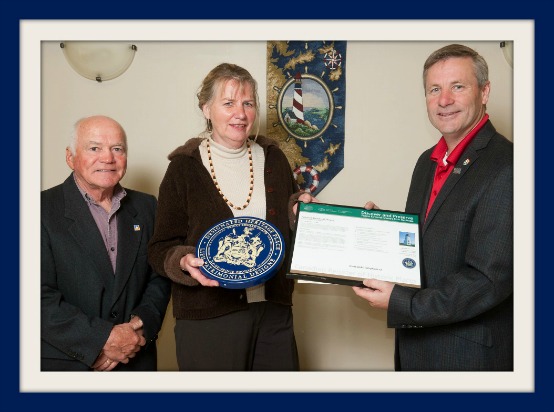 Left to Right: Eric Gallent; President of the PEI Lighthouse Society, Leona Creed, and the Honourable Minister of Tourism and Culture, Robert Henderson. Photo Credit: Brian Simpson, Provincial Photographer