Former Hardy's Channel
The Former Hardy Channel Lighthouse, is a square tapered tower, 9.1 M, 30' in height. It is attached to a two storey dwelling. It has retained the lighthouse appearance with its shingled exterior and shed style roof over narrow windows. The lantern is square with glass on three sides.
The lighthouse and dwelling are painted a light blue/ grey stain with deep red roof and details.
It is on an ocean frontage overlooking the sandy Island where it formerly stood.
Driving Directions:

The Hardy's Channel / Little Channel Lighthouse is located at the end of a long private road, so the best public views of the lighthouse are from across the inlet from Howard's Cove Seafood Limited.
North Cape Coastal Drive - Take Route # 173 North from Freeland and then turn left onto Smith Road from where a distant, partial view of the lighthouse is possible. Maybe you might find a fisherman who will give you a water view !
GPS Coordinates: 46 68 80.7 N, 63 94 30.9 W
---
Technical Data
Date Built: 1877
Electrification and De-staffing Dates: Electrification in April 1947. Decommissioned: 1969.
Tower height: 9.1m, 30'
Historic Data
On the north west shore of Prince County there is a series of three long sandy islands from Alberton to Malpeque. These are known locally as the 'Sandhills'. There are four main passages between these leading to the Casumpec Bay, Conway Narrows, and Malpeque Bay.
Because there was heavy traffic to the ship yards and fish factories, a light was needed to guide marine traffic into Conway Narrows.
A light was established on May of 1871, by recommendation of shipbuilder James Yeo from nearby Port Hill. This light consisted of lanterns on two poles set in the sand at the entrance to Hardy's Channel.
William Hardy owned a lobster factory that was located on the Sandhills. He was hired to tend the lights in the channel. At this time he would row over at dusk to hoist them on their mast and then extinguish them in the morning.
In 1872, the Government decided that a lighthouse should be built at this spot. Peter Miller of Ellerslie got the contract for $900, but local sources say the actual builder was James Henderson.
On August 20, 1877, two range light towers were first lit using a circular burner with a 20" reflector. They were erected on cedar posts, sunk deeply into the sand. They were 60.3 meters (198 feet) apart.
The Hardy's Channel Lighthouse, was a square wooden, 9.1 meter (30 foot) tower. It appears that the back range light had been transformed into a lighthouse by the addition of a dwelling. We are unsure if this dwelling was part of the original design or added at a later time.
The front range was a 6.1 meter (20 foot) open skeleton tower while the back range
In 1947 Walter Bridges had been contracted to remove the kitchen section of the lighthouse and it was automated in April of that same year.
'The harbour entrance had changed so much that the lighthouse was actually a hazard to navigation. A bell buoy was placed at the outside entrance to Hardy's Channel, and a light buoy at the mouth of th harbour. The light on the sandhills was extinguished in 1968." this was taken quoting Allan Graham, in his article A Light on the Sandhills.
It was sold and relocated across the Conway Narrows, to a spot called Lighthouse Point.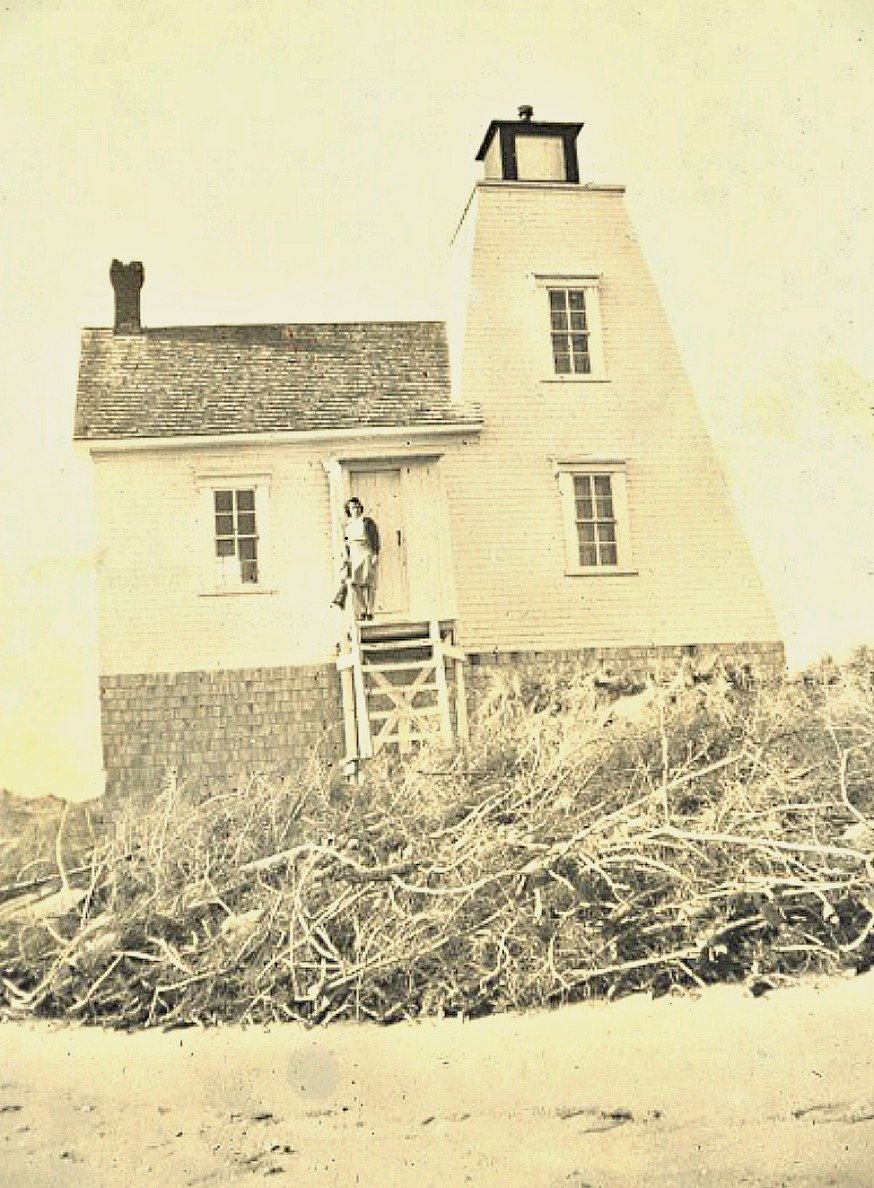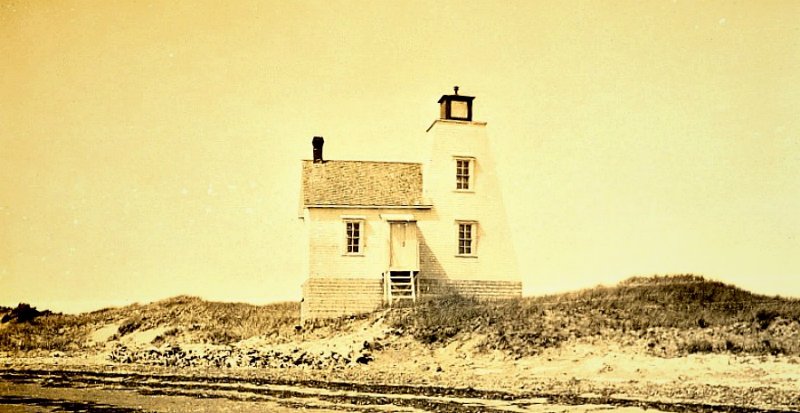 ---
Lighthouse Keepers
William Hardy began his career as keeper of the pole lights established in 1871 and continued until 1917. His son Ernest was keeper from 1917 until his death in 1946, when he was succeeded by his son Everett.
Current Owners/ Operators:
In 1972 the tower was purchased and moved to Freeland. It is now a private residence.