Former Shipwreck Point Lighthouse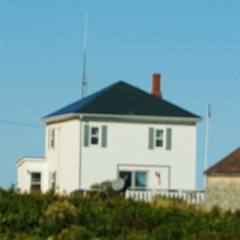 Former Shipwreck Point Lighthouse is a square two story building 11.5 m (38') high. The cupola housing the lantern has been removed. There are modern windows, doors and shutters painted green.
Driving Directions:

Although this light is on private property, it can be viewed from a public road. It is situated approximately, 39.6 m (130') east of the present Shipwreck Point Lighthouse.
Points East Coastal Drive - From Route 16 on the Points East Coastal Drive at Naufrage, go north on Harbour Road for a short distance, and you will see the lighthouse on your left.
GPS Coordinates: 46 28 07.2N, 62 25 22.6W
---
Technical Data
Status: Decommissioned
Date Built: 1913 decommissioned-data is historical.
Electrification and De-staffing Dates: Electrified in September,1967
Focal Height: 26.2 METERS 86 FT
Light: Fourth Order Fresnel Lens.
Tower height: 11.5 m, 38'
Historic Data
The first Shipwreck Point Lighthouse was constructed in 1913, at the cost of $ 3,213.81. It was built by Anandale Lumber Company. This was one of the largest lighthouse dwellings at this time on PEI. The square two-storey building had eight rooms.
It was 11.5m (38') high with the lantern centered on top of the square hip roof. The fourth order bull's eye lens was the largest lens on PEI. It was on display at the Charlottetown Coast Guard Base for many years.This lantern was one of the few that had glass all round. It was a dodecagon shape-12 sided polygon.
It operated year round from 1942-45 to aid wartime Commonwealth pilots training in Summerside and Mount Pleasant. It was automated in 1966 and was sold to the former keeper.
In addition to this lighthouse there was an oil house, grainery, barn and well house.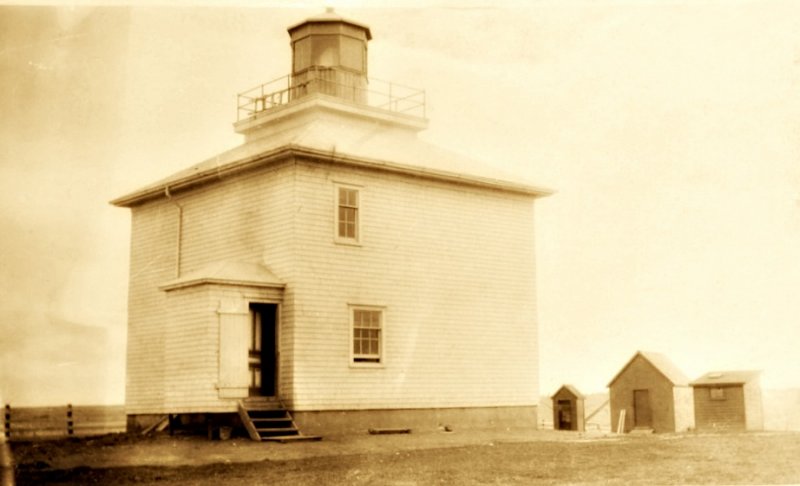 ---
Lighthouse Keepers
Francis MacKinnon 1913 – 1917 drowned May 12, 1917, while setting lobster traps.
Sarah (Gallant) MacKinnon 1917 – 1922. Family history passed down states that his eight year old son, had watched his father light the lantern light many times. When young Neil lost his father in a drownding accident, he showed his mother, Sarah, how to look after the light the very night his father died. She continued as keeper until 1922.
There is another poignant story about Sarah and Neil. One very stormy night the mechanism that rotated the light giving its signature flash pattern, stopped working.
Sarah, therefore, had to turn a hand crank in the exact flash pattern signature for this light, to alert mariners of their nautical location. Neil diligently maintainted a fire, brewed tea and made food to sustain her during her long night's work. Shortly after this event Sarah received a letter from a ship's captain stating that when he first saw the light he thought he was at East Point and had started to steer towards shore to go around the point. Then he counted the total flashes and realized he was 15 miles west, at Shipwreck Point. Due to Sarah's diligence, his ship and crew were saved.
Peter J. MacKinnon 1922 – 1939
Daniel Leonard O'Henley 1939 – 1955
Hugh Boniface MacDonald 1955 – 1966
Current Owners/ Operators:
The Former Shipwreck Point Lighthouse was sold in May, 2013. The new owners plan to rent it as a tourism accomodation.