Haszard Point Front Range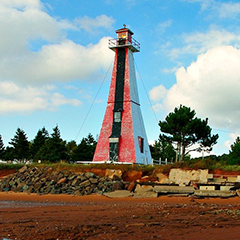 Built in 1889, the Haszard Point Front Range Light is 16.7m (54.7 ft) high.
It is a tall slim square tapered tower with unusual proportions due to the height being increased by 2.4m (7.9 ft) around 1948. It has a small square lantern. The navigation light shines through the window on the seaward side. The narrow plank lantern deck is supported by metal brackets and is surrounded by a metal railing.
Both Haszard Ranges have a unique paint scheme which allows them to contrast with the surrounding buildings. Three sides are painted the typical white while the seaward side is painted red with a wide black vertical daymark extending from the ground to the lantern deck. The window and door are within the daymark. They are topped by shed dormers.
Four strong guy wires that extend from below the lantern deck to the ground steady the Lighthouse from major movement during strong sea winds.
It is located in a private residential area near Kinlock.
Driving Directions:
Although this light is on private property, it can be viewed from a public road.
From Highway 1 in Stratford, just east of Charlottetown, turn south on Highway 1A (Georgetown Road). After 2.6 km (1.6 miles) turn right onto Keppoch Road, and you will see the Haszard Point Range Front Lighthouse on your left after 1km (0.6 miles). Note that Lighthouse Lane, which leads to the lighthouse, is private and visitors are not encouraged.
GPS Coordinates: 46 11 39.7N 63 04 25.2W
---
Technical Data
Status: Active
FHBRO Number: 90-116
LOL number: 991
Date Built: 1889
Electrification and De-staffing Dates: 1961
Nominal Range: 13 NAUTICAL MILES
Focal Height: 18.3m, 60'
Light: Fixed Yellow Light
Tower height: 17.3m, 56'7"
Historic Data
The range lights originally displayed fixed red lights until 1902, when they were changed to fixed white lights. The Haszard Point Range Lights currently show a fixed yellow light.
In 1934, the front range tower had a red diamond on its otherwise white seaward face, but today both towers have a red seaward face with a black vertical stripe.
Due to severe erosion, the range light was moved in 1902 and 1936. Because of constant erosion issues at this site, it is again very close to the edge of the cape.
---
Lighthouse Keepers
1890-1893 - J.P. Wood
1893-1899 - George Wood
1900-1910 - Daniel McRae
1910-1961 - Edwin Stewart
Current Owners/ Operators:
Government of Canada. A petition for ownership under the Parks Canada Heritage Lighthouse Program has been filed.