North Cape Lighthouse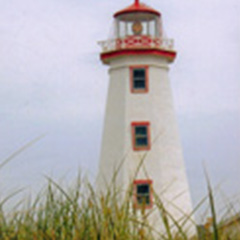 North Cape Lighthouse is an octagonal tower 18.8 m. or 62 ft. tall according to the Federal Heritage Building Review Office Report #90-87. This differs from Notice to Mariners(NOTMAR) which lists it as 19.5 m. or 63.9 ft.tall. Each of the eight walls measure 10 ft 9 in. at the base of the tower. The fourth order bull's eye lens is protected by a cast iron lantern which has glass on all but one panel. The lantern deck is enclosed by a cross-braced wooden railing.
The base of the lantern deck is trimmed with a broad red fasia. Below the lantern deck is a unique white cornice which separates the lantern deck from the shingled walls of the tower.
There are two windows on each of the second, third and fourth floors. A window on the bottom floor was replaced by an air vent. A wooden weight shaft extends from the bottom to the top floor. The interior of the tower is unfinished. Strong metal cables reinforce the interior.
In common with other pre - Confederation towers, North Cape has a heavy framed construction. It has 14"X14" corner posts anchored at the 12"X12" sill with 12"X14" timbers. Studs and joists of a smaller dimension were used for the wall sheathing and floors.
Driving Directions:

North Cape Coastal Drive - Follow Route # 12 to its end at the Northwestern point of the Island
GPS Coordinates: 47 03 27.7 N 63 59 48.8 W
---
Technical Data
Status: Active
FHBRO Number: 90-87
LOL number: 1036
Date Built: 1865
Electrification and De-staffing Dates: 1962 (Electrification) 1967 (De-staffed)
Nominal Range: 18 miles NAUTICAL MILES
Focal Height: 23.7m, 77' 7"
Light: Flashing Yellow light. Fourth order bull's eye lens.
Flash Pattern: Flash 1 second Eclipse 4 seconds.
Tower height: 19.5m, 63' 9'
Historic Data
The dangers posed by the longest rock reef in North America was first noted by Jacque Cartier, July 1,1534. He wrote: " To the North-east of this cape for about half a league, there is a dangerous shoal and rockey bar."
The North Cape Lighthouse is an example of the difficulties faced by the British North American Colonies to erect important and required structures such as lighthouses. This lighthouse was established only after lengthy discussions and arguments between local residents, shipping interests, and government agencies.
In 1834 the Beaufort Report states the following: " ... on the North West point of Prince Edward Island, a light would be highly useful to vessels who crossing the Gulf are forced down in the bight by violent North East winds. The rapidly increasing trade of the Miramichi and the many rising settlements in the Strait of Northumberland would also well justify the erection of a lighthouse there."
A petition in 1840 was presented to the Assembly of Prince Edward Island suggesting that the governments of the neighbouring colonies and eastern states be asked to contribute to its cost and up keep. At this time the government agreed on the need of a lighthouse at North Cape, but had no funds to build it. In 1851, James Warburton, Colonial Secretary, sent a report from the House of Assembly of Prince Edward Island to the Government of Canada which suggested that Canada, the British North American Colonies, the United States and even Great Britian provide"Proportionate contributions" toward the construction of a lighthouse at North Cape. A strong argument made that lighthouses at North Cape and East Point " would be of a greater utility to the shipping interests of the countries referred to than the similar interests of this colony." Unfortunately, no funds were forthcoming.
The North Cape Lighthouse was built in 1865 and went into service in 1866. Hon. Alex Anderson designed the North Cape Lighthouse. At that time a small lightkeeper's dwelling was built.Between 1890-1913, a small wooden shed was built toward the cliff edge.
It is one of three "Sister Lights" built immediately before or after Condeferation in1867. The other two are located at Seacow Head, PEI, and Cape Jourimain, New Brunswick. These octagonal towers are among the oldest wooden frame towers still standing in the Maritimes.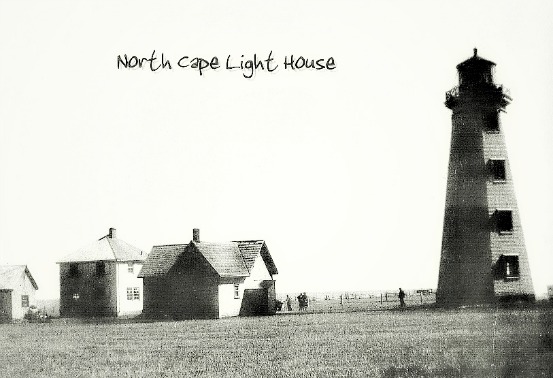 Upon PEI entering Confederation in 1873, the Department of Marine and Fisheries took an assessment of all Island Lighthouses. During this assessment, North Cape was singled out as "one of the most important light stations on the Island."
It is believed that this Coast Guard Photo was taken prior to it being moved in 1951.
North Cape Lighthouse has been moved a number of times due to erosion. The last time was in March 8, 1951, when Neil Mac Donald of O'Leary moved the lighthouse, dwelling, and shed back 400 feet. It cost $4,785 dollars. At this time a new dwelling was built, leaving the former one as a storage shed.
A hand written note, from an unidentified source states:
" Robert MacRae built the first lighthouse at North Cape. The material used was brought over on a ship from Halifax. Robert's brother, Charles, was hurt during the off- loading and died 2 weeks after in Halifax."
---
Lighthouse Keepers
Incomplete Data: We have conflicting dates and information on actual names and spellings.
? - MacDonald,
? - James Patty MacPhee
1866-1872 - Stanislaus F. Perry
1872- 1873 - Patrick Hogan
1873-1876 - J.Stanislaus F.Perry
1876 - 1877 ? - Louis MacDonald resigned
1877-1879 or 1883 - Peter (H) K. Perry
1883- 1897 or 1880-1900 - Augustus(Augustin) Hackett
1897-1912 ? - James Phee
1900-1920 or 1912- 1928 - Dougal P. McCarthy
1928- 1931 - J. Mark (Gaudin) Gaudet, resigned when his wife died
? - Leo Shea
? - Wilfred Brennan, Temporary keeper
1940- 1956 - Pierce (Percy) Morrissey
1956- 1966 or 67 - Basel Spearce, from Cape Breton,N.S.
Current Owners/ Operators:
Government of Canada. Tignish Initiatives has submitted a petition for ownership to the Parks Canada Heritage Lighthouse Program.
Special Events/Activities:
On September 25th 2013, the North Cape Lighthouse was awarded a Provincial Designated Heritage Place plaque and certificate, by the Honourable Minister of Tourism and Culture, Robert Henderson.