Tignish Run Lighthouse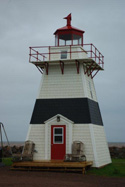 It is a small square pyramidal wooden tower. The lantern deck is surmounted on the tower. It is supported by metal brackets and surrounded by a metal railing. The cast lantern has glass on all sides. It has had no light since it was decommisioned in 1997.
A broad black horizontal daymark was restored to the central part of the tower in 2009. On the upper part of the seaward side of the tower there is a non- functioning fog alarm. The tower is clad in white nailite siding. There is a simple pediment over the door facing inland.
This tower is three stories high with windows on each level. Red paint accents the foghorn, railings, doors and brackets. The tower is a museum displaying historical pictures. Adjacent to this tower is a monument dedicated to area fisherman who died at sea.
Driving Directions:

North Cape Coastal Drive - Take Highway 2 to its end at Tignish, near the northwest tip of the island. When Highway 2 ends in Tignish, turn left onto Church Street (Route 14), and then make an immediate right onto Dalton Avenue. When Dalton Avenue ends, turn right onto Route 12, and then after 1.6 km (1 mile) turn left onto Tignish Shore Road. Continue until Tignish Shore Road ends, and you will see the Tignish Run Lighthouse on the corner of Tignish Shore Road and Harbour Road.
Grounds open, tower closed. Open seasonally.
GPS Coordinates: 46 57 03.4 N 63 59 40.8 W
---
Technical Data
Status: Decomissioned - Open
FHBRO Number: 90-132
LOL number: 1084
Date Built: 1880
Electrification and De-staffing Dates: De-staffed 1854
Focal Height: 10.7m, 35'1"
Tower height: 8.2m, 27'
Historic Data
In 1877, vessels were guided into the harbour by two fixed beacons atop masts, which were discontinued when Henry Williams built the lighthouse in 1880 for $545.00. It went into operation in the spring of 1881. It soon became evident that the lighthouse alone was not sufficent guidance to the narrow entrance to the harbour. In September 15, 1883, a second light was established atop a skeleton tower at the outer end of the North Pier. With its fixed red light, it was located 189m ( 620 ft. ) from the main light. In 1888, a new front range was built to replace the front skeleton tower that had been washed away in a gale the previous fall.
A senior lady recalls that one of the keepers lived close to the present location of the lighthouse.Sometimes he would take her and some other youngsters with him when he rowed across the Run in the evening to light the lantern. He would return in the morning to extinguish the oil lamp. The light was electrified in 1954.
We do not have the date when the black horizontal day mark was removed. It was replaced during the 2009 restoration.
The main light functioned as an inner range light until 1989. Then it became a coastal light until it was de-commisioned in June 1997.
It was in serious disrepair until 2009 when the Tignish Shore Community Improvement Committee relocated it to Fishermen's Haven Park and refurbished it. It is now located close to the eastern side of the entrance to the harbour. It is also known as Big Tignish or Jude's Point Lighthouse.
---
Lighthouse Keepers
1877-1881 - Isadore Chaisson
1881-1894 - Isadore Gaudet
1894-1895 - J.S.Richard
1895-1897 - Fidele J. Gaudert
1897-1912 - Agate Gaudet
1912 - 19?? - D.Handrahan
Current Owners/ Operators:
The Tignish Shore Community Council
Special Events/Activities:
The lighthouse is located within a small seaside park. There is a canteen, washrooms, playground equipment, etc. Various community events are held there.