Former Fish Island Lighthouse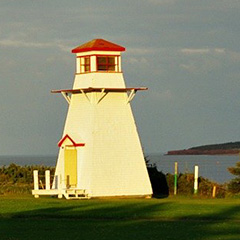 It is a small square tapered tower with a wooden lantern but no light. The wooden lantern has windows on all sides. There is a plank platform with no railings surrounding the upper portion of the tower. This platform is supported by simple brackets. There is a decorative pediment over the door, and a single window on the seaward side. Following Coast Guard traditions, all accents are painted red.
Although it came from Fish Island, this is a range light, not the original lighthouse.
Driving Directions:

Central Coastal Drive - From Kensington lights, (if entering the lights from Summerside/ Bridge) take a left onto Route #20 north and after roughly 10.9 km (6.8 miles), when Highway 20 makes a hard right, continue straight on Malpeque Road, which will make a hard left, and then turn right on King Street and follow it to Cabot Beach Provincial Park. Once in the park, follow signs to the right (for the beach and day-use picnic area) to find the relocated Fish Island Lighthouse.
GPS Coordinates: 46 55 95.1 N 63 70 31.1 W
---
Technical Data
Status: Decomissioned
Date Built: circa 1913
Tower height: 14m, 46'
Historic Data
Fish Island is at the entrance to Malpque Bay, which is considered the most important harbour of refuge on the North Coast of PEI.
The tragic loss of 160 lives and over 80 vessels in the Yankee Gale1851, identified an urgency for a lighthouse to guide the numerous vessels througth the shifting sand bars to the safety of Malpeque Bay.
Henry Palmer, Consular Agent of the United States for the Island Colony, wrote to Lieutenant Governor Alexander Bannerman on March 2, 1852, that many ship owners were willing to contribute toward the erection of lighthouses at Malpeque and Tracadie Harbour.
The first lighthouse built in 1853 " failed to meet the ends designed in its establishment." Therefore in 1857 a petition was presented to the House of Assembly for 100 pounds to build a replacement lighthouse on Fish Island( Bill Hook Island).
By 1861, the lightkeeper, John Craig, was experiencing difficultiy collecting the light dues needed to sustain the lighthouse. He feared that if payment of dues were not enforced that no vessel would be willing to pay, which would be detrimental to "all" shipping.
' In 1874, a year after Prince Edward Island joined the Confederation, the General Superintendent of lighthouses visited the Island's lighthouses and gave the following assessment of the Fish Island Lighthouse. "The light-house at this station is a slight wooden structure not worthy of repair, and the dwelling-house has been abandoned as unfit for use. New lamps and reflectors were supplied to this light-house, but it will be necessary to erect a new light-house, dwelling and oil store at this station, and also to establish a beacon range light." ' Taken from Kraig Anderson's website: www.lighthousefriends.com
In 1876, a range light and a new white square lighthouse with a one-and-half storey dwelling was constructed for $1,987. It went into operation in the spring of 1877.
At present we do not know the last date of operation and destruction of the third Fish Island Lighhouse.
The fourth Fish Island Lighthouse, built in 1913 and continued in service until 1961, when it was replaced with the present skeleton tower which has an enclosed upper portion.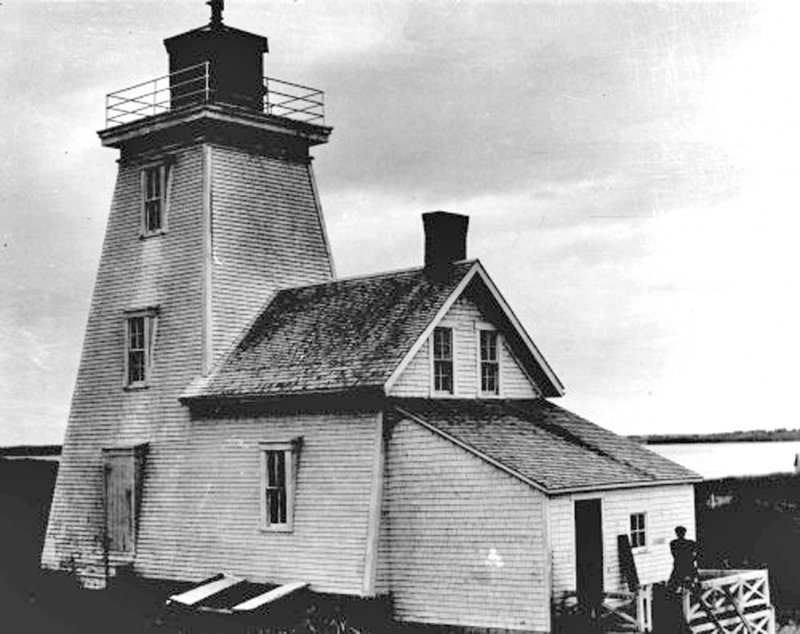 Photo taken in 1913, by Canadian Coast Guard.
The lighthouse was replaced in 1961 by the Malpeque Harbour Approach Light. It is not known when the lighthouse pictured above was destroyed. When severe erosion in 1989 undermined the range light tower, the Canadian Coast Guard planned to demolish it.
Local fishermen and the Malpeque Historical Society were not willing to let this take place. With the help of Bill Auld; president of the MHS and Keith Davidson, this small range light was cut in two and flown by helicopter to its present location at Cabot Park.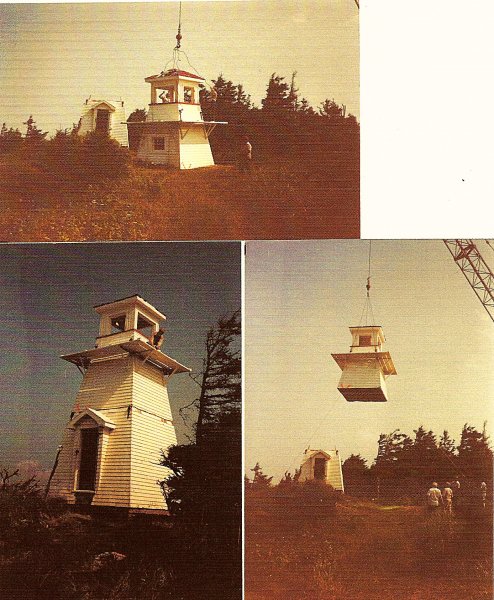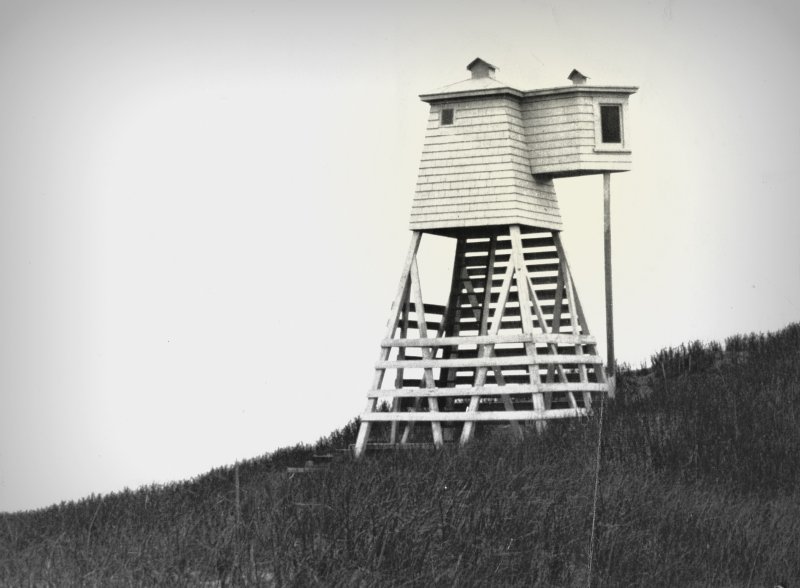 ---
Lighthouse Keepers
1853-1857 - Benjamin Thomson
1857-1859 - Willim H. Mac Kay
1859-1865 - John Craig
1873-1895 - Angus J. Mc Lellan
1895-1897 - Matilda Mc Lellan
1897-1906 - William Sinclir
1906-1910 - Patrick Gould
1910-1913 - J.A L. Mc Lellan
1913-1924 - P. Hickey
1924-19?? - J.Chappel
Current Owners/ Operators:
Malpeque Historical Society