New London Lighthouse
The New London Lighthouse/ New London Back Range Light is a square tapered tower is 14.1m (46.2 ft) ground to vane. The walls of the attached dwelling follow the taper of the tower. A narrow plank deck with a metal railing surrounds the small lantern. It has few decorative elements except for the shed dormers over the windows and door.
Driving Directions:

Central Coastal Drive - From Highway 6 in New London at the Lucy Maud Montgomery Birthplace, go north on Highway 20 for 6.9km (4.3 miles) and then turn right on River Road (Route 263). Follow River Road until it ends, then turn right onto Cape Road and drive for 1.6km (1.0 miles) to its end where you can park your car and walk down a clay road to the New London Lighthouse.
GPS Coordinates: 46 30 37.4N 63 29 13.9W
---
Technical Data
Status: Active
FHBRO Number: 89-214
LOL number: 1060.01
Date Built: 1876
Electrification and De-staffing Dates: Mid 1960's
Nominal Range: 7 NAUTICAL MILES
Focal Height: 13m, 42'6"
Light: ISO White light
Flash Pattern: Flash 2 seconds Eclipse 2 seconds Seasonal
Tower height: 13.3m, 43'6"
Historic Data
When Prince Edward Island joined Confederation in 1873 there was an evaluation of all Island lights. The Superintendents of lighthouses deemed a replacement of the two small lanterns raised on day beacons which guided ships into New London Bay.
Built in 1876, the New London Back Range was originally an independent light but became the Back Range when a new front light was built in 1879, approximately 300 m (1000ft.) seaward at the narrow entrance to New London Bay
In 1876, George McKenzie of French River constructed the New London Lighthouse for $1,300. Upon completion, he stayed on as lighthouse keeper for twenty years.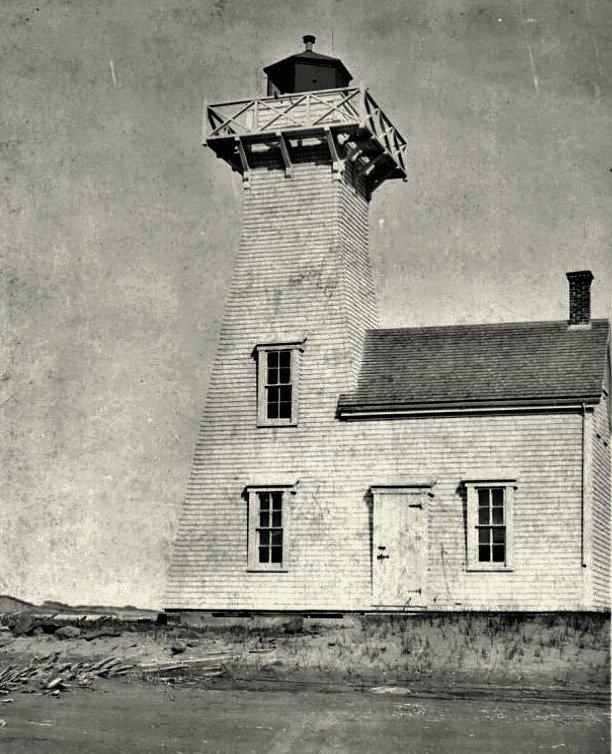 October 1,1876 the light went into active service.
"The light in the lantern room was originally fixed white, and a red streak light, visible only when vessels were in alignment with the channel, was shown from a window sixteen feet below the lantern room. "
Quoted from Kraig Anderson- www. lighthousefriends.com
In 1879, the streak was replaced by a separate front range light that was constructed near the entrance to New London Harbour by John McKay for $130, and the New London Lighthouse then started to serve as the companion rear range light. Shortly after the front range light was completed, it was struck by a heavy gale that carried the tower 183 metres (600 feet) westward, causing the lantern to be destroyed by fire.
The range lights were moved in 1891, 200ft (61m) closer to the mouth of the channel.
In 1894, keeper Captain George MacKenzie saved the lighthouse from destruction by entering the lantern, which was engulfed in flames, and single handedly extinguished the fire.
New London Lighthouse was rented to the Gunter family from the mid- 1960's to 2000 when the Canadian Coast Guard discontinued private leasing of Prince Edward Island Lighthouses.
The red day mark was removed in 2008 When the front range was removed in 2001, the red stripe was removed from the tower and it again functioned as a lighthouse rather than a back range light. The electricity was removed in 2009 but a solar powered light continues to provide guidance.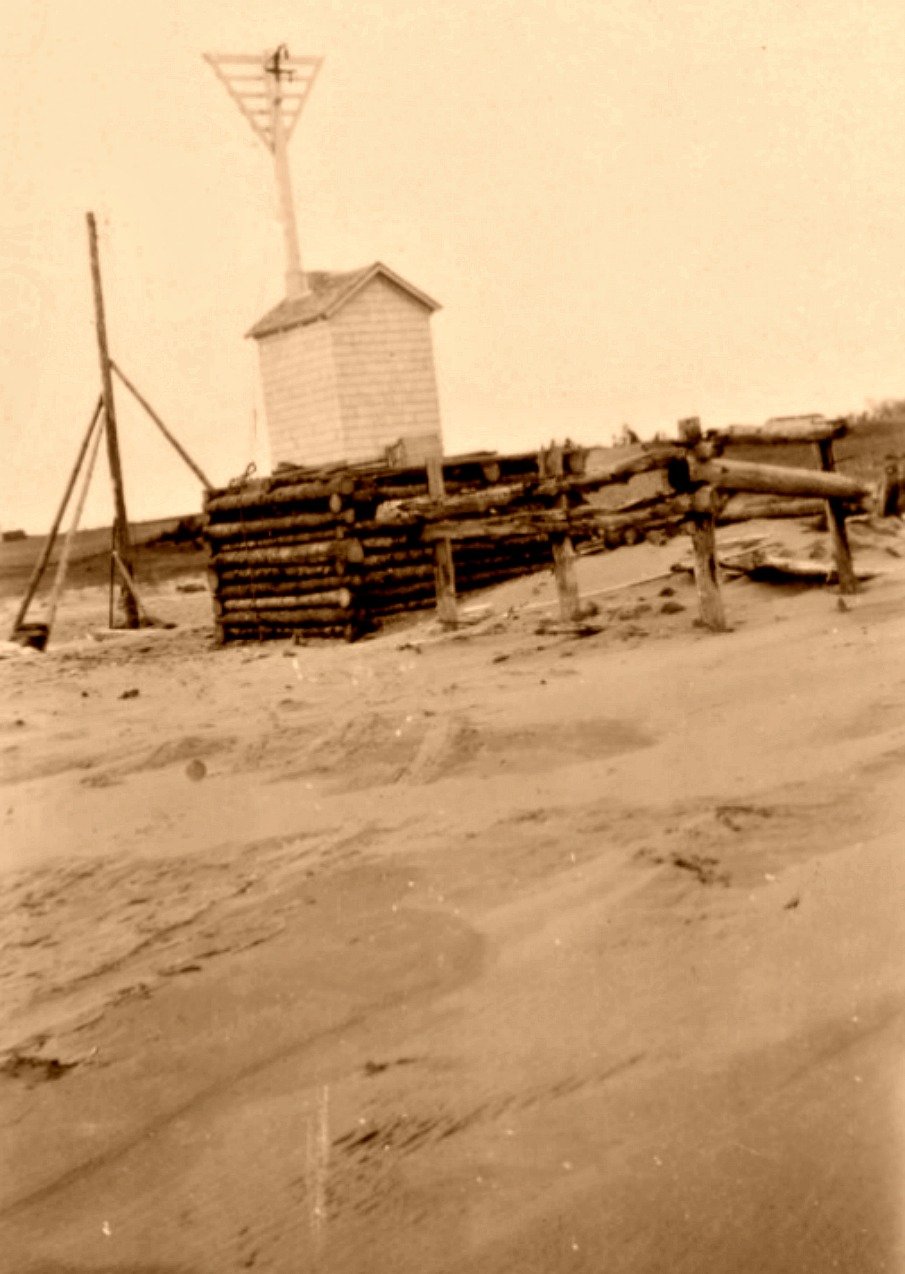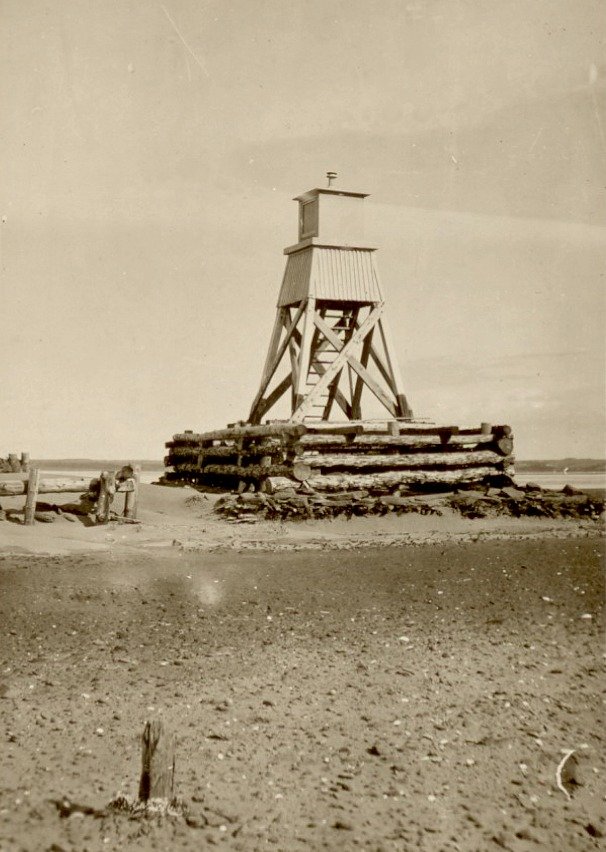 ---
Lighthouse Keepers
1875-1896 - Captain George McKenzie
1896-1912 - James H. McLeod
1912-1931 - James A. Pidgeon
1931-1940 - Hugh John MacRae
1940-19?? - Charles Earl MacRae
1940-1943 - Claude Adams
1943-1956 - Maisie Adams - Following the death of her husband Claude, in 1943, Maisie Adams took on his role as keeper until 1955. She had been tending the light since his appointment in 1940. They had three children: Robert, Gertrude and Mary. She earned $13.60 a month when she started. This had increased to $49. when she resigned in 1956. She died on October 27, 2000 at the age of 87.
1957-1960 - W. Roland Paynter
Current Owners/ Operators:
Government of Canada. A petition for ownership has been submitted through the Parks Canada Heritage Lighthouse Program.
Special Events/Activities:
The New London Lighthouse was designated as a heritage place under the Prince Edward Island Heritage Places Protection Act on October 3, 2012.
On September 25th 2013, the NewLondon Lighthouse was awarded a Provincial Designated Heritage Place plaque and certificate from the Honourable Minister of Tourism and Culture, Robert Henderson.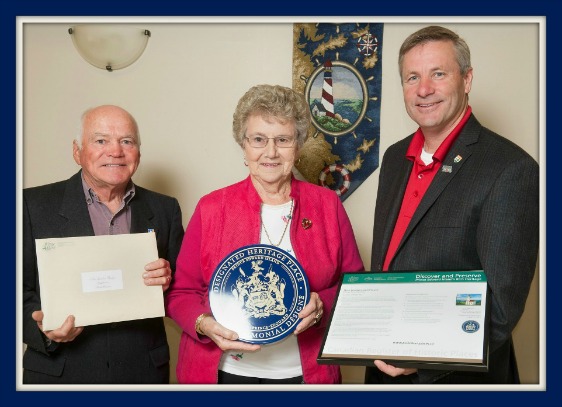 Left to Right: Eric Gallent, Isobel MacRae Picketts, and the Honourable Tourism and Culture Minister; Robert Henderson.
Photo Credit: Brian Simpson, Provincial Photographer.
Other:
Russ H. Gunter spent his summer at New London Harbour Lighthouse. His parents are Ivy and the late Garth Gunter who leased the Harbour Light House for many years. He wrote the following poem:
New London Range
There's a light that I know of,
It waits for you and me
Guiding weary sailors
Who dwell upon the sea.
And when it's night,
The sky is light.
Yet darkened is the land
I fill the lamp, strike a match
And wander in the sand.
For the beacon stands alone from us
And sailors have to see
A line of light on faded sand
Or flounder in debris.
I think of this old lighthouse
Beneath the timeless sky,
For there it is; New London Bay
Ship's Rest in P.E.I.