North Rustico Lighthouse
North Rustico Harbour Lighthouse, built in 1876, is 12.4m (41 feet) high. The walls of the attached dwelling follow the taper of the tower, and its exterior is covered with metal siding.
The wooden lantern deck is surmounted on the tower. It is surrounded by a wooden cross- braced railing and supported by wooden brackets.There is a shed dormer over the door and windows. The interior was stripped to the boards and the attractive stair rail was removed at some point after 1973.
Driving Directions:

Central Coastal Drive - From Route #6 in North Rustico, turn east on Harbourview Drive and follow it around the harbor for 1.8km (1.1 miles) to the North Rustico Lighthouse.
GPS Coordinates: 46 27 19.1N 63 17 31.7W
---
Technical Data
Status: Active
FHBRO Number: 90-089
LOL number: 1056
Date Built: 1876
Electrification and De-staffing Dates: 1960
Nominal Range: 13 NAUTICAL MILES
Focal Height: 12.4m, 40' 7"
Light: ISO Yellow
Flash Pattern: Flash 5 seconds Eclipse 5seconds
Tower height: 10.4m, 34'
Historic Data
The lighthouse was designed by the Department of Marine. The builder is unknown. It was first moved in 1884. It was undermined and capsized during a gale on January 12, 1899. It was then moved back and rebuilt as a coastal light. It was moved again in 1914. A new foundation was installed in 1954. It was damaged during a 2009 storm surge.
It is one of the few Island lighthouses which did not have the dwelling removed when it was de-staffed.
When it was de-staffed in 1960, the attached dwelling was leased as a summer residence from 1968-1973. A new tower was built in 1973, and the old tower declared surplus in 1974-75. However, strong public pressure led to the re-establishment of old tower in 1976. The interior was stripped and for a number of years surplus lighthouse equipment was stored there.
---
Lighthouse Keepers
1868-1869 - William H. MacNeill
1874-18?? - Thomas Walsh
1876-1892 - Thomas G. Pursey
1892-1897 - Joseph Dourant
1897-1912 - Joseph N. Pino
1912-1925 - L. Blacquiere
1925-1960 - George Pineau
Current Owners/ Operators:
Government of Canada. A petition for ownership has been submitted by The Friends of North Shore Communities Inc.under the Parks Canada Heritage Lighthouse Program.
Special Events/Activities:
The North Rustico Lighthouse was recognized as a heritage place under the Prince Edward Island Heritage Places Protection Act on October 3, 2012.
On September 25th 2013, the North Rustico Lighthouse was awarded a Provincial Designated Heritage Place plaque and certificate from the Honourable Minister of Tourism and Culture, Robert Henderson.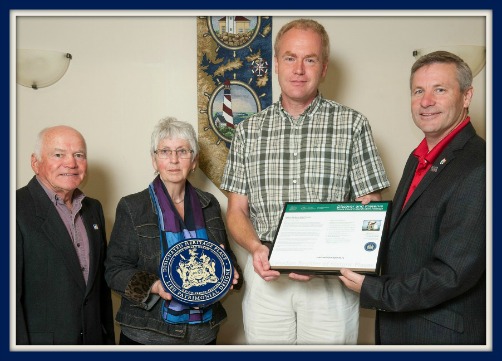 Left to Right: Eric Gallent;President of PEI Lighthouse Society, Trudy MacDonald; Vice President of PEI Lighthouse Society, Andrew Lush, and the Honourable Minister of Tourism and Culture; Robert Henderson.
Photo Credit: Brian Simpson, Provincial Photographer.