St. Peter's Island Lighthouse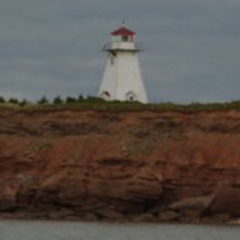 The St. Peter's Island Lighthouse is a square tapered tower clad in cedar shingles. The lantern has three windows. It is solar powered. The lantern gallery is superimposed on the tower, surrounded by a metal railing and supported by metal brackets. The corner casings on the edge of the tower are painted white. It has classical pediments over the windows and door. The structure is set on blocks instead of a foundation.
Driving Directions:

Red Sands Shore Drive - It is on St. Peter's Island, a small Island in the Hillsborough Bay. The St. Peters Island Lighthouse is best seen by boat or from the air. The Island may be accessible at low tide from Rice Point. Watch the tide cycle!
GPS Coordinates: 46 07 01.1 N 63 10 49.5 W
---
Technical Data
Status: Active
GPS Coordinates:
LOL number: 1007
Date Built: 1990
Electrification and De-staffing Dates: The current lighthouse has always been automated.
Nominal Range: 10 NAUTICAL MILES
Focal Height: 20.6m, 67'5"
Light: Flashing white light. Operates at night only
Flash Pattern: Flash 1 seconds Eclipse 3 seconds
Tower height: 9.1m, 29'8"
Historic Data
The original square tapered lighthouse went into service in1881. It was 11.6m (38 feet) in height and 6.1m (20 feet) at the base and 1.6m (5 feet 3 inches) at the top with a galvanized iron lantern. There was no dwelling.
It was replaced in 1964 by a cylindrical metal tower bearing a strong resemblance to a highway culvert. This was replaced in the 1980's by a tower similar to the original. Located in Hillsborough Bay, the St. Peter's Island Lighthouse is not visible from land and must be viewed from the water.
Although there were people living on the Island, it has been uninhabited for a long time.

---
Lighthouse Keepers
1881-1897 - William Hewson
1897-1912 - James W. Taylor
1912-1947 - James J. Taylor, died March 11.
1913-19?? - James MacGrath
1939-19?? - William Geldert
1947-19?? - William A. S. Taylor
Current Owners/ Operators:
The lighthouse is owned by the Government of Canada. A community group has petitioned for ownership under the Parks Canada Heritage Lighthouse Program.