Seacow Head Lighthouse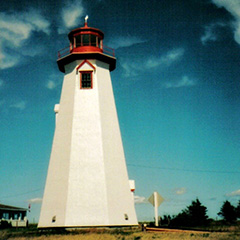 The Seacow Head Lighthouse is an octagonal tower 60' tall with each side measuring 11'.3" wide at the base.
According to the FHBRO building report, it is a particularly well-proportioned example of a classically- inspired design, with large pediments over its windows and door, and an elegant flared cornice at the top of the tower. The underside of the cornice is painted red. These classical elements were added to the rather plain original tower sometime between 1890 and 1921. The tower is a heavy framed structure. It was likely morticed and pinned, and "the whole to be screwed up tight and firm with wrought iron screw bolts," as were other towers on the Island from the same era.
An interesting feature of the lantern, is that while the part below the windows is round, the roof and windows are 12 sided polygons, which is called a dodecagon shape. There are round air vents under each section of the circular part of the lantern. Over each of the 12 sections there are metal hand or foot brackets to aid in painting and maintenance tasks. There is a metal service ladder from the lantern deck up to the top most vent.
Driving Directions:

Red Sands Shore Drive - - From Highway 1 just east of Borden-Carleton, turn north on Route 10 (North Carleton Road). After 7 km (4.4 miles) turn left onto Searletown Road (Route 112), then after 1.1 km (1.7 miles) make another left onto Route 119 (Fernwood Road). When Route 199 ends turn left on Sea Cow Head Road, and then right onto Lighthouse Road.
GPS Coordinates: 46 18 57.7N 63 48 35.9W
---
Technical Data
Status: Active
FHBRO Number: 90-90
LOL number: 1018
Date Built: 1863
Electrification and De-staffing Dates: Automated in November 12, 1959 De-Staffed in 1966.
Nominal Range: 12 NAUTICAL MILES
Focal Height: 26.8m, 87'9"
Light: Flashing White
Flash Pattern: Flash is 2 seconds, Eclipse is 2 seconds, - Flash 2 seconds, - Eclipse 6 seconds
Tower height: 18.3m, 60'
Historic Data
The Seacow Head, North Cape, and Cape Jourimain light towers are often called Sister Lights. Constructed in1863, the Seacow Head Lighthouse has an octagonal wood-frame, and is among the oldest wood-frame towers standing in the Maritimes.
Seacow Head and Jourimain were built in the narrowest passage of the Northumberland Strait as aids to navigation for fishing boats and other marine traffic passing through the Strait. They later served the CNR Ferries plying between Port Borden, PEI, and Cape Tormentine, N.B. Each was the first permanent Lighthouse on its site.
At this time there were only two other lighthouses, Point Prim (1845) and Panmure Head (1853). There were lights, possibly on masts, on Blockhouse Point, Summerside, Fish Island, and Cascumpec.
The keeper and his family lived in the lighthouse from 1863 until 1880. Their son Thomas was born in the lighthouse.
In 1874 a recommendation had been made for a dwelling, but it was not built until 1880. The two story frame dwelling (28'x25') and lean-to (12'x9') was sold to Mr. Sydney Murray of Bedeque on March 7, 1960 and removed from the site.
In 1902, the tower was repaired, re-shingled, and re-decked. A new cast iron lantern was installed as well. In 1906 the fixed white catoptric light was replaced with a petroleum vapour fourth order double flashing light constructed by Barbier, Benard & Turenne of Paris.
A 1931 photograph from the Canadian Coast Guard Archives shows the lantern deck enclosed with a circular metal railing with slim, closely-spaced vertical metal posts. It is now enclosed with an octagonal metal railing.
It was automated on November 12, 1959. It was moved back from the eroding cliff in 1979.
---
Lighthouse Keepers
1865-1867 - Malcolm MacFarlane - For the first two years of operation, seal oil was used which meant the lamp wick had to be trimmed every two hours. His assistant, William Mac Callum, attached to an alarm a device which would the bed clothes off when the alarm clock sounded, thus awakening him to tend to the light.
1867-1872 - Thomas P. Huestis
1872-1873 - James Wright
1873-1917 - Peter O'Ronaghan (Ranahan) - He served 45 years and was awarded an Imperial Long Service Medal from King George V.
Family members believe there was an error stating that E. O'Ronaghan was a keeper. He is believed to have been in the North at that time. They believe Peter kept the lighthouse until 1919, giving him 46 years of service which at that time made him one of the longest serving keepers in eastern Canada.
1917-1919 - E. O'Ronaghan
1919-1946 - Thomas J. Ranahan - He served 28 years and was awarded a Meritorious Service Medal by the Canadian Department of Transport. He was born in the Seacow Head Lighthouse.
1946-1959 - Walter Richards
1959-1967 - William Sherry - On January 1, he was no longer needed as caretaker of Seacow Head Lighthouse.
Current Owners/ Operators:
The Government of Canada owns this lighthouse. A local group, Seacow Head Lighthouse Inc. has petitioned for ownership under the Parks Canada Heritage Lighthouse Program.
Special Events:
The Seacow Head Lighthouse was used in some of the filming of the TV series Road to Avonlea. Most of the filming was done in Ontario using mock up stage sets.
Seacow Head Lighthouse was recognized as a heritage place under the Prince Edward Island Heritage Places Protection Act on October 3, 2012.
On September 25th 2013, the Seacow Head Lighthouse was awarded a Provincial Designated Heritage Place plaque and certificate from the Honourable Minister of Tourism and Culture, Robert Henderson.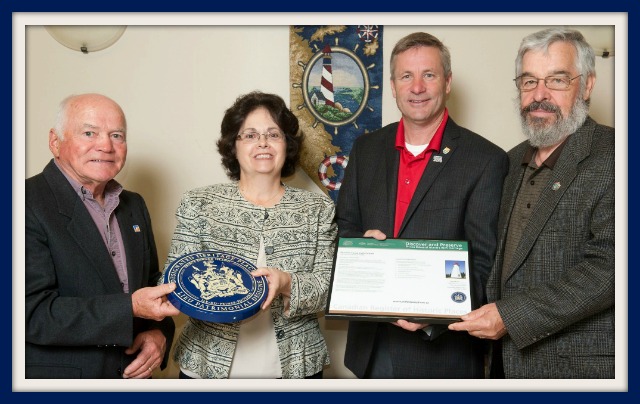 Left to Right: Eric Gallent; President of PEI Lighthouse Society, Elizabeth Whyte, Vice Chair of The Friends of Seacow Head Lighthouse Inc. , the Honourable Minister of Tourism and Culture; Robert Henderson and Frank Gorham. Photo Credit: Brian Simpson, Provincial Photographer.