Howard's Cove/Seal Point Lighthouse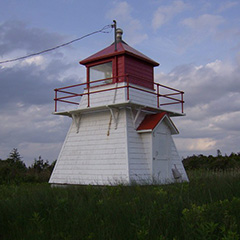 The lighthouse is on a high cape with a panoramic view of the Northumberland Strait and Richibucto, New Brunswick area as well as Howard's Cove Harbour and fish plant.
The 5.8m (19') tower is one of the smallest lighthouses on the Island. It is a wooden, square pyramidal tower topped by an enclosed lantern open on the two seaward sides. The lantern deck is surmounted on the tower and surrounded by a metal railing which is supported by metal brackets. There are large pediments over the window and door. It is covered with cedar shingles painted white with red trim.
Driving Directions:

North Cape Coastal Drive - Take Route 14 on the western shore. You will enter a community called Cape Wolfe. Howards Cove is between Routes 146 and 147. Look for a road called Wharf Road. There is a clay road that takes you to the lighthouse.
Grounds open/lighthouse closed.
GPS Coordinates: 46 44 25.1.N 64 22 36.5 W near Seal Point
---
Technical Data
Status: Active
LOL number: 1032
Date Built: 1978
Electrification and De-staffing Dates: This lighthouse has always been electrified.
Nominal Range: 12 NAUTICAL MILES
Focal Height: 14.2m, 46'5"
Light: Long flashing white
Flash Pattern: Flash 2 seconds Eclipse 4 seconds Seasonal
Tower height: 5.8m, 19'
---
Historic Data:
The first version of this light was established at Howard's Cove in 1960 and the lighthouse was built in 1978.
Lighthouse Keepers
This lighthouse had no keepers because it has always been electrified.
Current Owners/ Operators:
Owned by the Government of Canada. The Howard's Cove Harbour Authority has petitioned for ownership of the tower through the Parks Canada Heritage Lighthouse Program.