Georgetown Back Range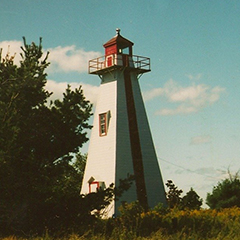 Georgetown Back Range Light - The square wooden, 13.4 m (44'), tower has a twenty-foot base and steeply sloped sides covered by wooden shingles. The superimposed gallery is carried on iron brackets and has a metal railing.
It was moved from its original location in 1907. The range light is similar in design to the Port Borden Back Range. The day mark has been changed from a broad red horizontal band to a narrow vertical red stripe on the seaward side.
Driving Directions:

Points East Coastal Drive - From Route 17, 7.2 km (2.6 miles) east of Montague, turn north onto Lower Montague Road. When you reach the shore, go right on St. Andrews Point Road for 2.2 km (1.4 miles) and you will see the Georgetown Range Rear Light on your right.
GPS Coordinates: 46 09 50.6 N, 62 31 44.5 W
---
Technical Data
Status: Active
FHBRO Number: 90-257
LOL number: 956
Date Built: 1890-91
Electrification and De-staffing Dates: Circa 1970.
Nominal Range: 11 NAUTICAL MILES
Focal Height: 17.5m, 57'4"
Light: Continuous white light.
Tower height: 13.4m, 43'9"
Historic Data
The original light, first lit in 1868, was on a mast. In 1877, the Georgetown Back Range Light was built.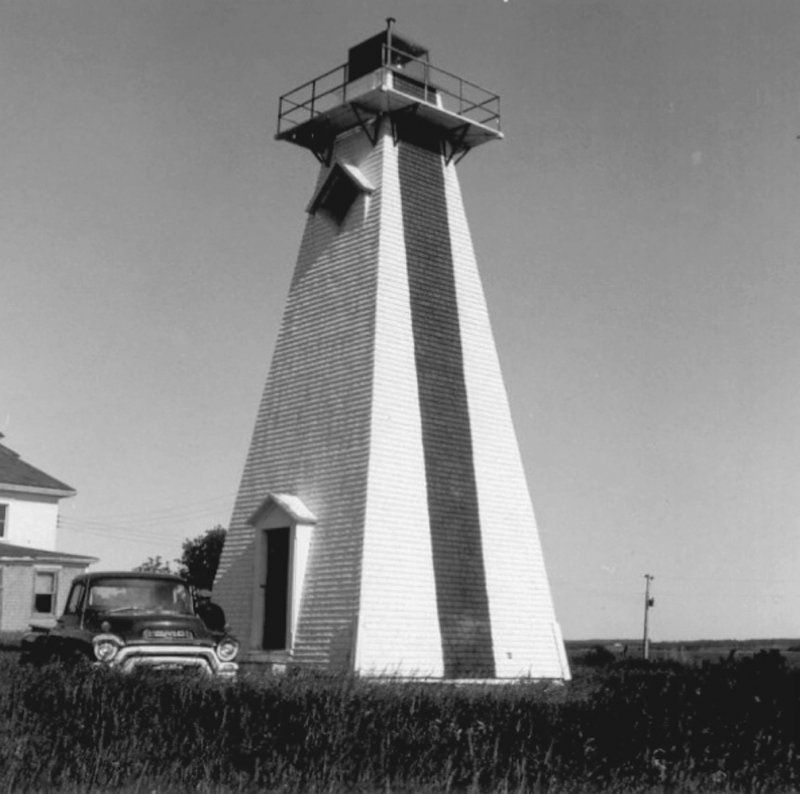 ---
Lighthouse Keepers
1883-1901 - Roger Westaway
1901-1912 - Jesse George Clark
1912-19?? - Roger Westaway
Current Owners/ Operators:
Government of Canada. It is one of three lighthouses on PEI that had no petition filed for ownership.