Murray Harbour Back Range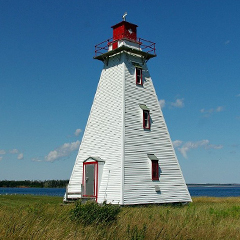 Murray Harbour Back Range Light / Beach Point Back Range Light - It is 13.6m (44.6 feet) high with a very broad base, and steep sloped sides.This range light was built in the typical utilitarian style tower. It is very well proportioned square tapered tower.
There is a simple lantern deck surmounted on the tower. Red iron metal railings surround the gallery which is supported by metal brackets. There are three vertially banked windows on the south side of the tower. A painted grey shed style dormer extends over the top of each of the windows. There is a pediment over the metal door which opens to the west. Along with the red lantern, there is red trim on the windows, and door.
Driving Directions:

Points East Coastal Drive - From Highway 4 near Murray River, go east on Highway 18 (Cape Bear Road) to Murray Harbour, and then continue east on Cape Bear Road for 2.6 km (1.6 miles).
For decent views of the lighthouse, continue east to the next street, Wharf Lane.
GPS Coordinates: 46 01 17.5 N, 62 28 41.7 W
---
Technical Data
Status: Active
FHBRO Number: 90-114
LOL number: 965
Date Built: 1878
Electrification and De-staffing Dates: Electrified-1966
Nominal Range: 10 NAUTICAL MILES
Focal Height: 17.8m, 58'3"
Light: Red light. Visible in line of range. Seasonal.
Tower height: 13.6m, 44'6"
Historic Data
The Murray Harbour Range Lights were two of the eight lighthouses that pre-dated Prince Edward Island joining Confederation in 1873. It was designed by the Department of Marine and built by Joseph Egan.
Built in 1878 on the site established in 1869, this tower is similar in proportion to Haszard's and Leard's Back Range Lights.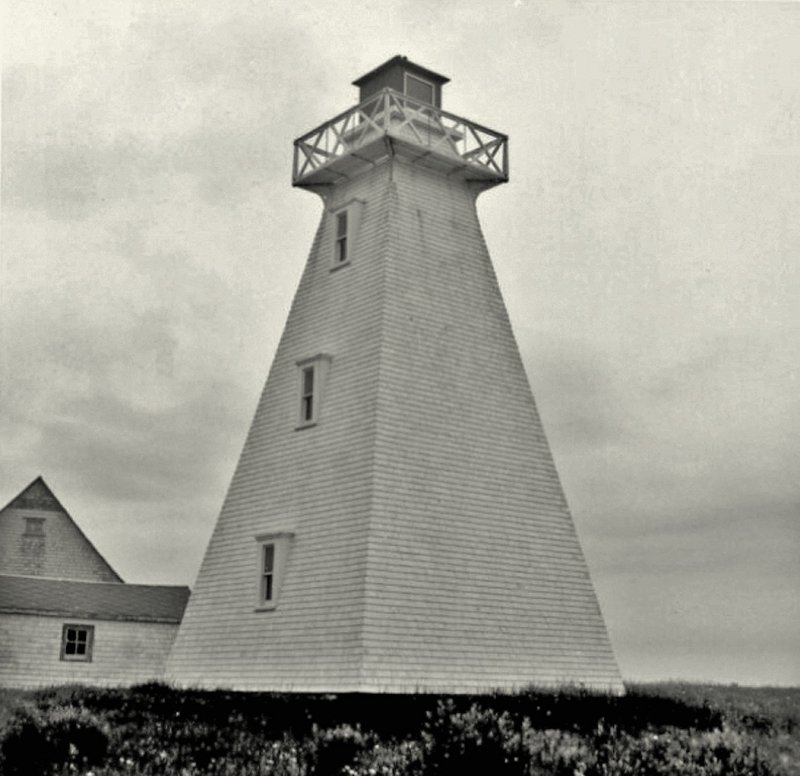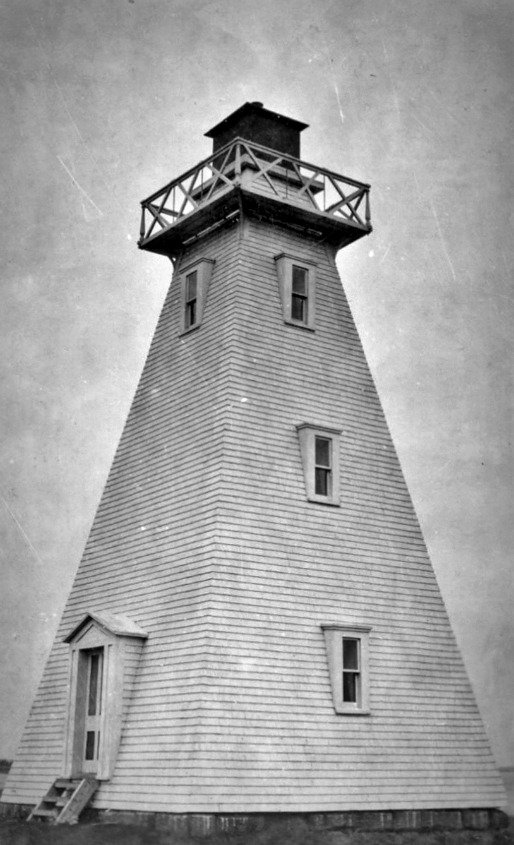 ---
Lighthouse Keepers
The Penny Family were keepers of the Murray Harbour Back Range from 1868-1966, with the exception of three years.
1868-1874 - James Penny
1875-1878 - Malcom McFadyen
1878-1897 - James Penny
1897-1944 - Robert Penny, Sr.
1944-1966 - Robert Penny, Jr.
Current Owners/ Operators:
Government of Canada. A local group has petitioned for ownership of the lighthouse under The Parks Canada Heritage Lighthouse Program.