Leard's Back Range Light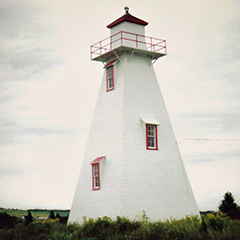 The Leard's Back Range is a square tapered tower 13.7m ( 45') in height from base to vane. The tower has a broad base and steeply sloping sides topped by a wooden lantern. The superimposed lantern deck is surrounded by a metal railing and supported by metal brackets.
The navigation light shone through a single window facing seaward. A bright red daymark extends from this window to the top of the classically pedimented door. The windows are topped with a shed dormer.
The interior is unfinished so the light timber framing can easily be seen. Narrow stairs extending to the top have several platforms where the keeper could rest while carrying oil to the top.
Driving Directions:

Red Sands Shore Drive - From Highway 1, roughly 19km (12 miles) east of Confederation Bridge, exit south towards Victoria, following Nelson Street. The Leards Back Range Light is set back from the road on your left.
GPS Coordinates: 46.22 08.2N -63.4 92 22W
---
Technical Data
Status: Decommissioned
FHBRO Number: 90-118
LOL number: 1009
Date Built: 1878
Electrification and De-staffing Dates: Decommissioned in August 2011
Focal Height: 30.8m, 101'
Light: Had a green fixed light.
Tower height: 13.7m, 45'
Historic Data
The first back range light in Victoria was established in 1879 when a beacon on a mast which attached to Solomon Leard's house. In 1895, the beacon was moved to the keeper's garden as strong gales were damaging his house.
Later the light was shown from a dormer window in the keeper's house. When the keeper passed away in 1901, the current tower was built 61 meters (200 feet) from the keeper's house. according to FHBROReport #90-118, "...it might have been an open frame tower which was later enclosed. This would explain its broad base and steeply sloping sides. Its top one-third is otherwise typical square tapered range tower, with a gallery resting on iron brackets."
---
Lighthouse Keepers
1878-1901 - Solomon J. B. Leard
1901-1912 - James Inman
1912-1935 - K.C. Holm
Stewart Inman and Harry Clark were keepers of the Leard's Front Range Light so we believe they also kept the Leard's Back Range Light.
Current Owners/ Operators:
The lighthouse is owned by the Government of Canada. The Victoria Seaport Museum Inc. has submitted a petition of ownership under the Parks Canada Heritage Lighthouse Program.