Leard's Front Range Light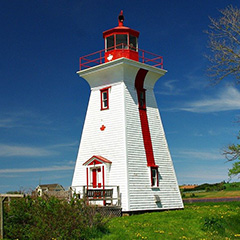 Leard's Front Range Light / Palmer's Back Range Light - Overlooking the Northumberland Strait and Victoria Harbour on the south shore, this square tapered, shingled, wooden range light stands 10.7m (35.1feet) in height. The lantern deck is surrounded by metal railing and the tower has an elegant flared cornice. There is a white maple leaf on the red metal lantern.
The windows have shed dormers with red trim. The tower has an unusually attractive entrance. There is a classical pediment over the doorway and a unique red stripe on the door frame. This frame is flush with the pediment, sloped with the wall of the tower. A white door has four red painted panels. Above the door there is a red maple leaf.
The Victoria Seaport Museum is housed in this range light. Although it is small, it has a great deal of information. The ground floor is wheelchair accessible.
The building houses the Victoria Seaport Museum which has a number of artifacts and numerous historical pictures of the 'Golden Days' of shipping.
Driving Directions:

Red Sands Shore Drive - From Highway 1, roughly 19 km (12 miles) east of Confederation Bridge, exit south towards Victoria, following Nelson Street. When Nelson Street ends, turn left onto Water Street, and continue to the Leards Front Range Light.
GPS Coordinates: 46 12 50.8 N, 63 29 19.7 W
---
Technical Data
Status: Active - Open
FHBRO Number: 90-118
LOL number: 1008.1
Date Built: 1879
Electrification and De-staffing Dates: Electrified - circa 1960
Nominal Range: 17 NAUTICAL MILES
Focal Height: 11.3m, 37.0'
Light: Flashing white
Flash Pattern: Flash 0.1 seconds Eclipse 3.9 seconds Operates at night only. Seasonal.
Tower height: 10.7m, 35'1"
Historic Data
Leard's Front Range Light was constructed in 1879 (some documents say 1878) to replace an 1869 beacon that was hoisted on a mast.The lot for the Front Range was sold by Donald W. Palmer for $75. James Barclay was paid $535. to build the tower.
This tower is unique because it housed the Palmer's Back Range which was temporarily discontinued in 2008, as well as the Leard's Front Range. Each light pointed in a different direction and had its own List of Lights number. The Palmer's Front Range was located on a cribwork in Victoria Harbour. Originally it was on Palmer's Wharf in Victoria. It was a fixed red light shown from a post at an elevation of three meters(10 feet). Later it was moved to a cribwork in the inner harbour in Victoria. Both Palmers range lights were decommissioned on or before 2010.
When the Palmer's Back Range was operating, it had a fixed red light. It had a white day mark attached to the railing of the lantern deck.The vertical red stripe had a yellowish shade which differed in colour from the red stripe on the seaward side of the Leard's Front Range.The Leard's Front Range had a fixed green light visible from 338 degrees 30 minutes true seaward.
Ownership of Leard's Front Range was transferred from the Government of Canada to the Village of Victoria in 2012.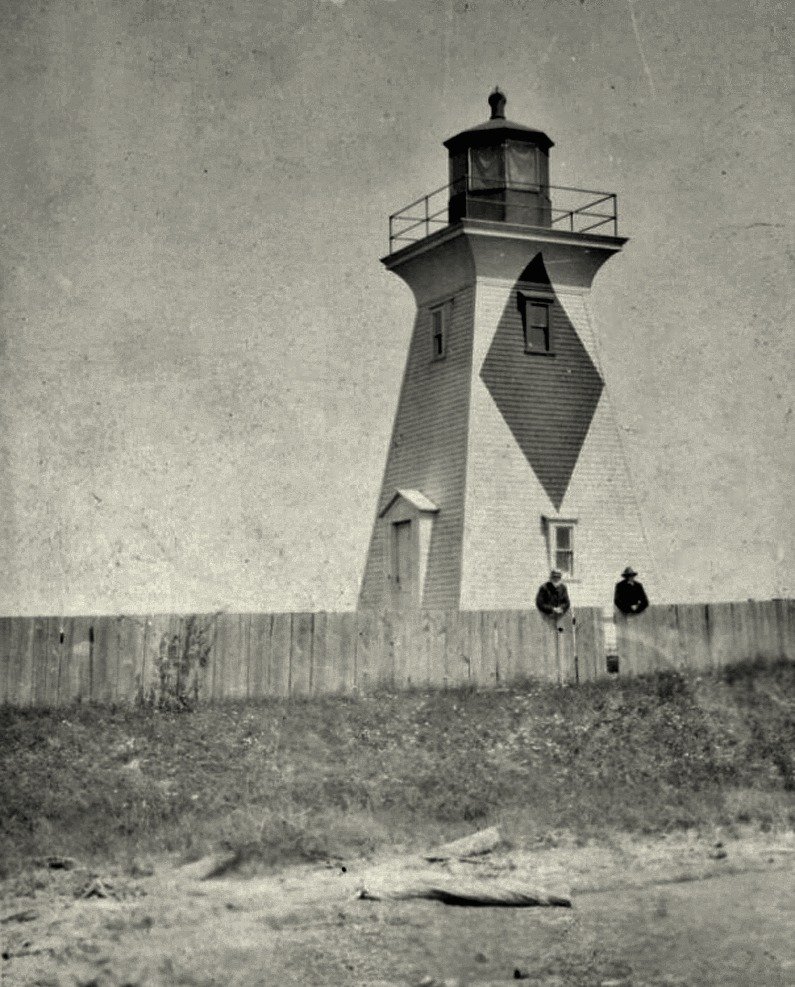 ---
Lighthouse Keepers
1874-1875 - Donald W. Palmer
1875-1889 - Percy Palmer
1889-1893 - James Johnson
1893-19?? - Abner J. Howatt
1912-1935 - Kenneth Holm
Dates ? - Stewart Inman
Dates ? - Harry Clark
Current Owners/ Operators:
The Village of Victoria owns the Leard's Front Range Light.
Special Events:
Victoria Seaport Museum is housed in the lighthouse and is open during the summer months from 10 a.m. to 5 p.m., Tuesday through Sunday. If the tower happens to be closed, check with the friendly owner of the candle shop just across the street.
The Leard's Front Range Light was recognized as a heritage place under the Prince Edward Island Heritage Places Protection Act on October 3, 2012.
On September 25th 2013, the Leard' Front Range Light was awarded a Provincial Designated Heritage Place plaque and certificate from the Honourable Minister of Tourism and Culture, Robert Henderson. There was no Victoria representative at the presentation.