Port Borden Front Range Light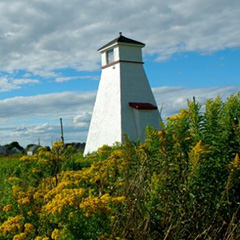 The square tapered tower is 6.5 m (21' 3" feet) high, and stands on a high cape. This shingled tower has no decorative details. It has one seaward window where the light was set in the wooden lantern.
There is no lantern gallery. There is a shed dormer over the door of the lighthouse. There is a red fascia at the joining of the tower and the wooden lantern.
Driving Directions:

Red Sands Shore Drive - Exit Highway 1 in Borden-Carleton at the Gateway Village and follow Borden Avenue south to the Marine/Rail Historic Park. You can view the Port Borden Front Range Light from the park, or drive towards it to get a closer view. It appears the lighthouse is surrounded by private property but there is a right of way.
GPS Coordinates: 46 15 00.4 N 63 41 41.5 W
---
Technical Data
Status: Decommissioned
FHBRO Number: 90-121
LOL number: 1016
Date Built: 1917
Electrification and De-staffing Dates: Decommissioned June, 1997
Focal Height: 15.2m, 49' 8"
Light: was a yellow fixed light.
Tower height: 6.5m, 21' 3"
Historic Data
The site was expropriated February 12, 1917, allowing the range light to be built later that year.
The Port Bordon Front Range Light guided the ferries between Borden, PEI and Cape Tormentine, New Brunswick.
When in operation, its light showed through a window at the top of the tower on the seaward side. Along with the Back Range light, it was moved in 1923 and again in 1954-55.
This range light was decommissioned in June 1997 with the completion of the Confederation Bridge. It had deteriorated badly but has since been restored.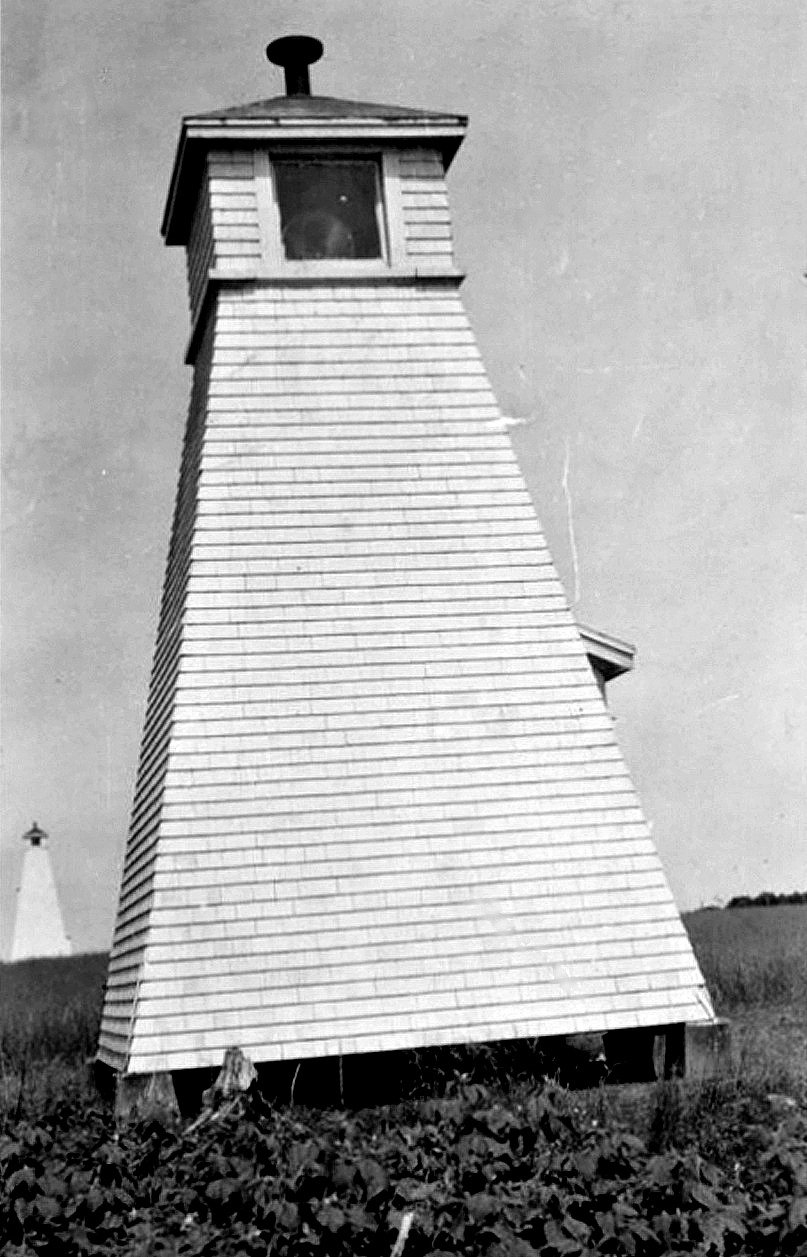 ---
Lighthouse Keepers
W. Carruthers was the first light keeper of both range lights.
Current Owners/ Operators:
The town of Bordon - Carleton now owns this range light.