Port Borden Back Range Light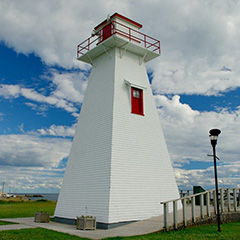 The 12.8m (42 feet) tall pyramidal wooden tower has a broad base and steeply-sloped sides. The narrow gallery is super imposed on the tower. It surrounded by a metal railing and is supported on iron brackets. The light shone through the seaward window of the wooden lantern. The shingled tower has a shed dormer window and door with no decorative details.
Driving Directions:

Red Sands Shore Drive - Exit Highway 1 in Borden-Carleton at the Gateway Village and follow Borden Avenue south to the Marine Rail Historic Park, where you will find the Port Borden Rear Light.
GPS Coordinates: 46 15 00.4N 63 41 41.4W
---
Technical Data
Status: Decommissioned
GPS Coordinates:
FHBRO Number: 90-121
LOL number: 1017
Date Built: 1917
Electrification and De-staffing Dates: Decommissioned in June 1997.
Focal Height: 23.2m, 76' 1"
Light: was fixed yellow
Tower height: 11.6m, 38'
Historic Data
Built in 1917, the range light overlooks the Northumberland Strait and Borden Harbour on the south shore of Prince Edward Island.
It was relocated in 1923 and 1954-55. This range light was decommissioned in June 1997 when the Confederation Bridge was opened.
It was moved to the base of Confederation Bridge and is part of the Marine Rail Park.
---
Lighthouse Keepers
W. Carruthers was the first light keeper of both range lights.
Current Owners/ Operators:
The town of Bordon - Carleton now owns this range light.